Immune regulation: Uncovering the 'brakes' on immune activation
T cells drive immune activation and promote clearance of infections and cancer. However, their function can also provoke autoimmune and allergic inflammation. The immune system therefore employs a variety of suppressive mechanisms, known as immunoregulatory mechanisms, to restrain excessive T cell activation. Immunoregulatory mechanisms also suppress beneficial anti-tumour T cell responses to drive deleterious immunosuppression in cancer. Immunoregulatory mechanisms therefore function as 'brakes' on immune activation and have important consequences in inflammation and cancer.
Fundamental discovery in the field of immunoregulation will pave the way for immune-based therapies for patients with presently incurable diseases.
Immunoregulatory mechanisms and cancer immunosuppression
Immunotherapies targeting the immunoregulatory immune 'checkpoints' PD-1 and CTLA-4 have revolutionised the treatment of patients with certain types of metastatic cancer, for example in those with advanced metastatic melanoma (Fig. 1) and PD-L1+ non-small cell lung cancer.
However, these therapies, which are thought to work primarily by affecting CD8+ T cells, are ineffective at inducing durable responses in a majority of patients and a majority of cancer types. There is a need to develop new and mechanistically distinct modes of cancer immunotherapy. A major aim of the fundamental immunology research in the laboratory is to uncover new immunoregulatory mechanisms whose dysregulation in tumours contributes to cancer immunosuppression. A second major aim of the research is to uncover immunoregulatory mechanisms that function to restrict autoimmune and allergic inflammation. The research aims to inform the development of new immune based therapies in the mid-term for patients with autoimmune and allergic inflammation and cancer.
Research themes
Mechanisms of regulatory T (Treg) cell development and maintenance in inflammation and cancer
Cells with dedicated immunoregulatory function exist within the T cell lineage. Whereas effector CD4+ and CD8+ T cells promote immune activation, CD4+ regulatory T (Treg) cells, dependent upon the transcription factor Foxp3, suppress their function, preventing excessive autoimmune and allergic reactions (Fig. 2). Treg cells therefore represent an important immunoregulatory mechanism underpinning peripheral tolerance and stability of Treg populations is required throughout life to prevent lethal inflammation. In cancer, however, regulatory T cells powerfully limit effector responses and their stability is a barrier to immune-mediated clearance of disease. This project aims to better define the transcriptional and epigenetic mechanisms that drive Treg lineage specification. We are also interested in the signalling, transcriptional and epigenetic mechanisms that control Treg population dynamics and lineage stability during inflammation and cancer, and the potential for immunotherapies to affect these aspects of Treg biology.
We have shown that alternate lineage repression by the transcriptional repressor BACH2 is required to stabilise early Treg cell development with consequences for immune homeostasis (Nature 2013, Nature 2015) and tumour immunity (J Clin Invest 2016). We have shown that the PHD family of HIF TF prolyl hydroxylases enable induced Treg differentiation to be modulated by extracellular oxygen concentrations and drive permissivity of the lung to tumour metastasis (Cell 2016). These findings show that the immunoregulatory mechanisms involved in Treg differentiation have consequences for both inflammation and anti-cancer immunity.
Molecular and cellular mechanisms of tumour immunosuppression
Cancers adapt to their immune environment to evade attack. According to the cancer immunoediting hypothesis (Fig. 3), tumour development is characterized by an initial 'elimination' phase, during which a majority of cancer cells are destroyed by components of innate and adaptive immunity. This is followed by an 'equilibrium' phase, during which pressure from the immune system contributes to evolutionary selection of tumour escape variants that give rise to an 'escape' phase characterized by evasion from immune control and unrestrained tumour growth.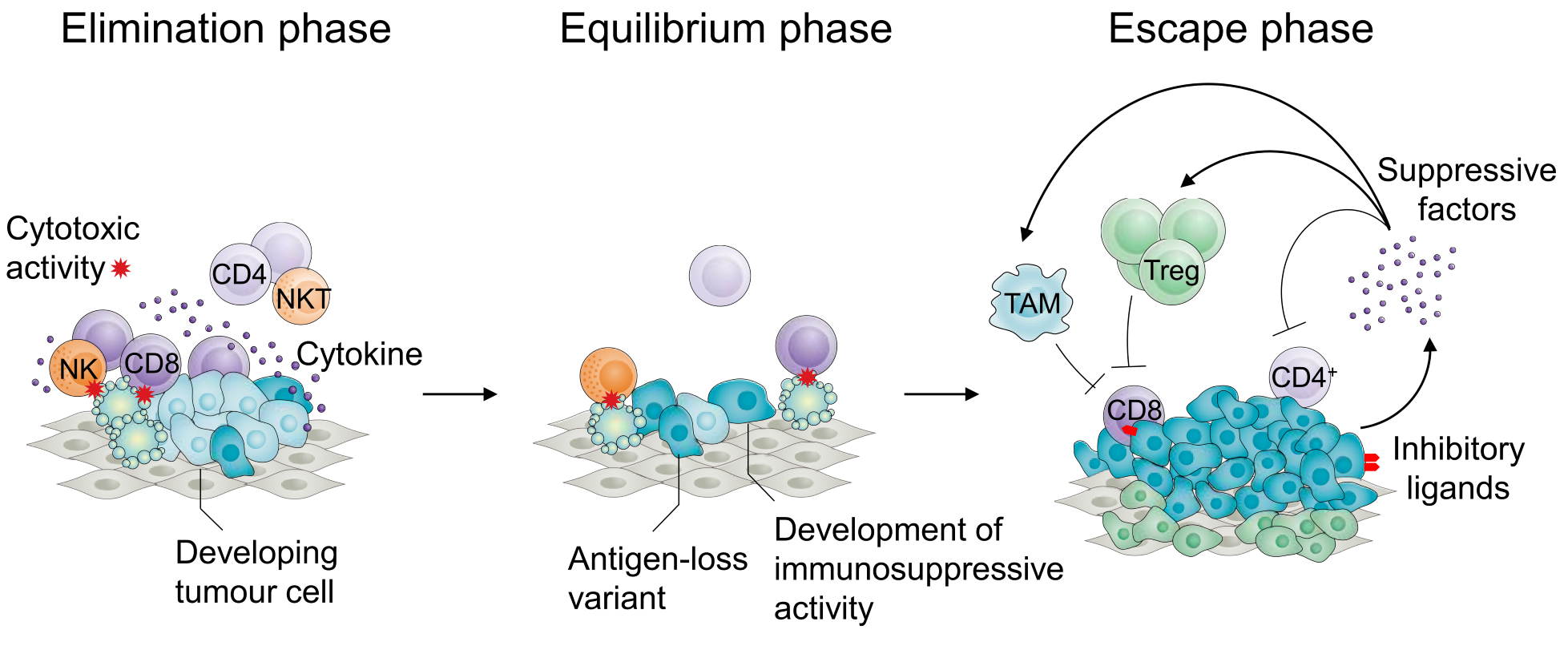 While selection of antigen-loss variants represents a mechanism of tumour escape, growth of tumours containing immunogenic epitopes is better explained through an understanding of the critical role of immunosuppression in promoting tumour escape. To achieve this, cancer cells subvert the biochemical, metabolic and ionic environment of tumours to drive immune dysfunction. For example, we have found that high levels of extracellular potassium in the tumour microenvironment is profoundly suppressive to T cell activation (Nature 2016). We are examining the adaptations tumours make to evade host immunity using directed tumour evolution and high-throughput sequencing based approaches to uncover new mechanisms of tumour immunosuppression. We are also utilising high-throughput functional genetics to identify novel immunoregulatory mechanisms operating within the tumour microenvironment.
Metastasis of cancer cells from primary tumours to distant organs is a principal cause of cancer morbidity and mortality. Metastases develop in individuals despite the vulnerability of metastasising cancer cells to immune attack. Innate lymphocytes such as natural killer (NK) cells play a critical role in elimination of early metastatic tumour cells. In addition, newly established metastases express similar mutated neo-antigens to the originating tumour but the timing with which neo-antigen-specific CD4+ and CD8+ T cell responses are recruited to early metastases compared with primary tumours, and their phenotype and function, are distinct. Using mouse primary and metastatic tumour models in conjunction with cellular and molecular immunology approaches, this project focusses on gaining a detailed understanding of the earliest immune events that occur upon cancer metastasis and the immunoregulatory mechanisms by their rejection of metastases is prevented.